Yes! Our place was covered with snow unexpectedly last Friday.
On Thursday, I was hoping that Mr Weatherman was wrong with his forecast(which he is a lot of times. lol), but this time, his guess was right! It started pouring on Saturday morning , then it got heavier in the middle of the day until evening, which accumulated up to 6inches. It was probably more than that, it was hard to tell because it was wet. Below is what it looks like.
It was so bizarre to have snow here in the East Coast in this time of the year. Too dang early! Instead of carving our pumpkins, we were building our snowman. lol. Well good thing it didnt happen on the Halloween though, cause it would really sucks. Still Im thankful that we are okay, even though we had no power for a couple of hours(it feels like forever) and no internet connection for 2 days(i dont think i could live in a cave! lol). The trees were not ready for such weather, so a lot of them were knocked down by the heavy snow, that cause our power shortage and internet shortage.
Photo below is what it looks like the next day after the storm. Ahh.. white is so beautiful but stinky. lol
Our Red Maple tree  was covered with frost, and was bending so low touching the ground due to the heavy snow on its branches.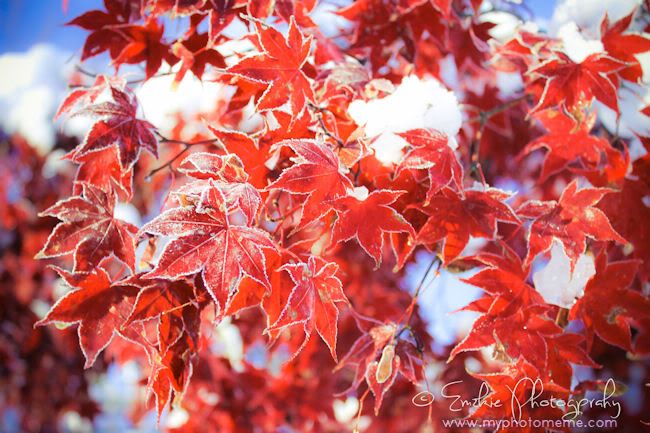 ---